TEAM
Anna Jones, sole designer and researcher
CONTEXT
Completed during General Assembly course
My sister's little family is growing quickly..
and so is the amount of things that she is accumulating for her children. My goal was to create a space where she could pass on stuff she no longer needs while enriching the community around her.
Problem Statement
Parents want to decrease the amount of kid items that they no longer need (i.e. three years). The large amount of items/toys/stuff around the house is causing them stress. However, they also need items for the future. They're looking for a place where they can donate their baby items and also find child items from a trusted community.
Hypothesis
We believe that creating a trusted community where families can donate/accept donations of lightly used, safe, quality products from other families with baby/children, we will be able to help parents decrease the amount of clutter in their home leaving them less stressed while allowing new families to receive good products from the trusted community.
We will know this to be true when we see a growing online community, donating/accepting donations/trading of items with other users, and homes that are less cluttered.
Competitive analysis, user interviews, and personas helped expand the KidGiv idea by discovering the true needs of users. Most competitor lacked a donation and trade feature.
User Interviews
User Interviews were conducted using 2 methods: in-person and remote over the phone. All interviews were recorded for documentation and reference. Preparation included a creating a research plan and discussion guide.
"He's got a playroom full of all his toys but he only plays with 3 of them. We want to put toys away to reduce stimulation.
"I won't donate to a company that profits from my donations."
"My house is never clean to my standards. It's always cluttered"
Common pain points revealed during interviews:
Too much stuff creating clutter and stress in their daily life

Parents feel that kids have too many toys that cause too many distractions. This leaves the kids unable to concentrate on a single toy.

Even though most parents accept getting secondhand items for kids, they tend to not use websites because they don't know where the second-hand items have been in the past.

Lack of community engagements/incentive to swap or donate (certain events only happen annually)

Parents felt very hesitant towards donating items to places that would turn a profit off of their donation, therefore they hold onto items until a family member needs them.
User Personas
These user personas are informed by user interviews and target audience research.
Age 26 Family Husband, her 14-month-old,
and 6 years old Working status Full-time Shopping Goals safe, budget-friendly brands
Biography Tara is a working mom with 2 kids ages 10 months and 6 years old. She and her husband share responsibilities: she purchases most of the 'stuff' and her husband does most of the cooking. Tara is very close to her family emotionally and physically. Tara works in the morning/early morning and her husband works normal hours so he usually puts the baby to sleep while she gets her ready in the morning.
Age 30 Family Husband, and her 14 month old, one on the way Working status Full time Shopping Goals safe, organic, high quality
Biography Sasha is a full time mom who has a full time job. She has a boy that is 14 months. She and her husband work together to take care of him. An average day for her is the following: wake up, take care of her son (feed him, get him ready for day care), get herself ready, work , pick up her son, return home, feed him, and take him for a walk. Her husband, who owns his own restaurant business helps by preparing food and putting him to sleep.
Tools such as storyboarding, user flows, card sorting, site maps, and annotated wireframes were used to provide structure for KidGiv.
Storyboard
Storyboarding was used to help explore and define the context of how KidGiv would be used. Some questions that were asked while storyboard were as follows:
How would someone find out about the app?

At what point would a potential user realize they needed KidGiv?

What would the overall process look like for a user?
A look at the overall process in relation to the above storyboard:
The realization that they have a box of old stuff

A chat with a friend or family member would ensue to see if they needed anything. If not, they would be referred to KidGiv.

Download, upload and see your matches on who you could donate to.

Meet up with who you are donating to.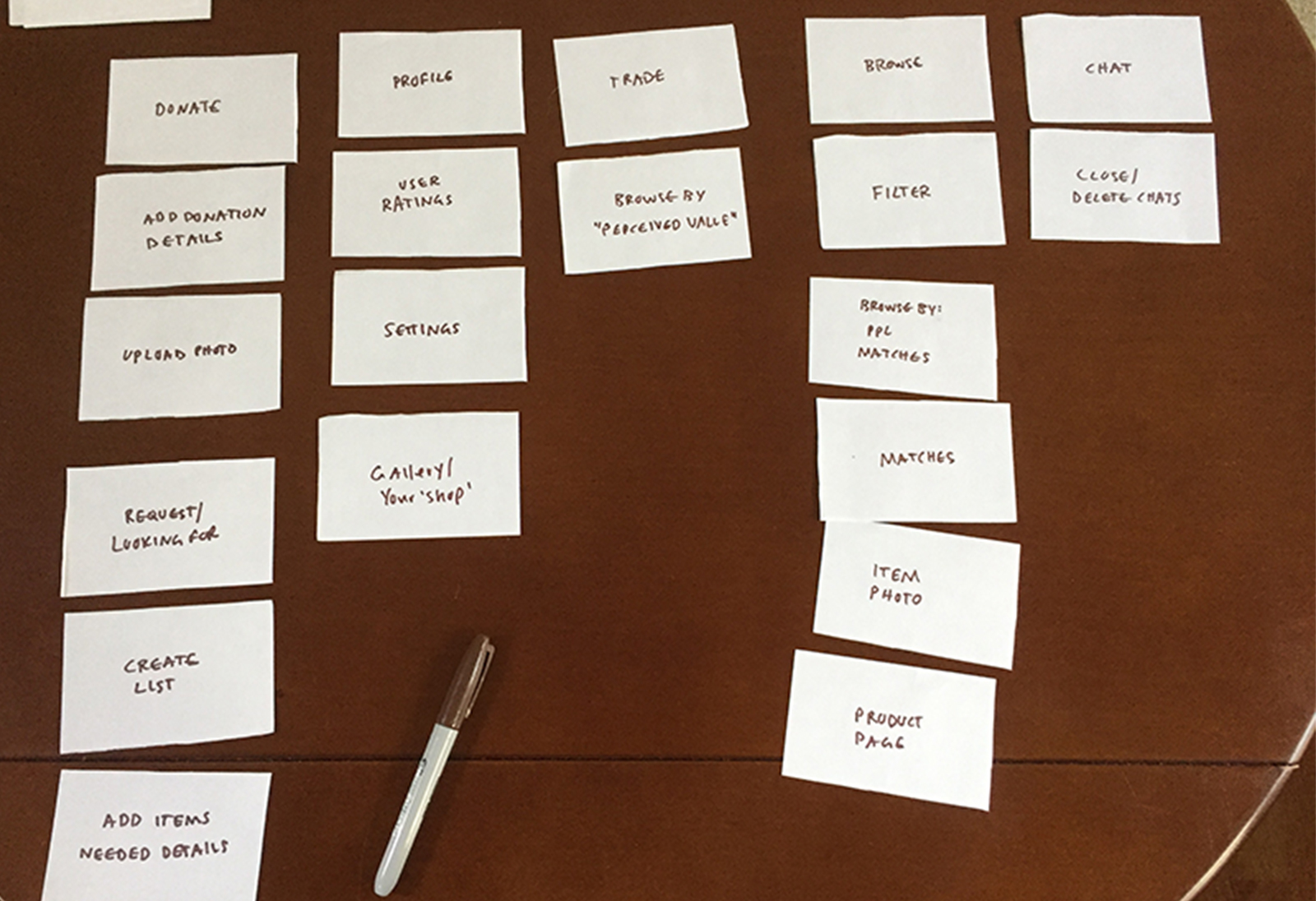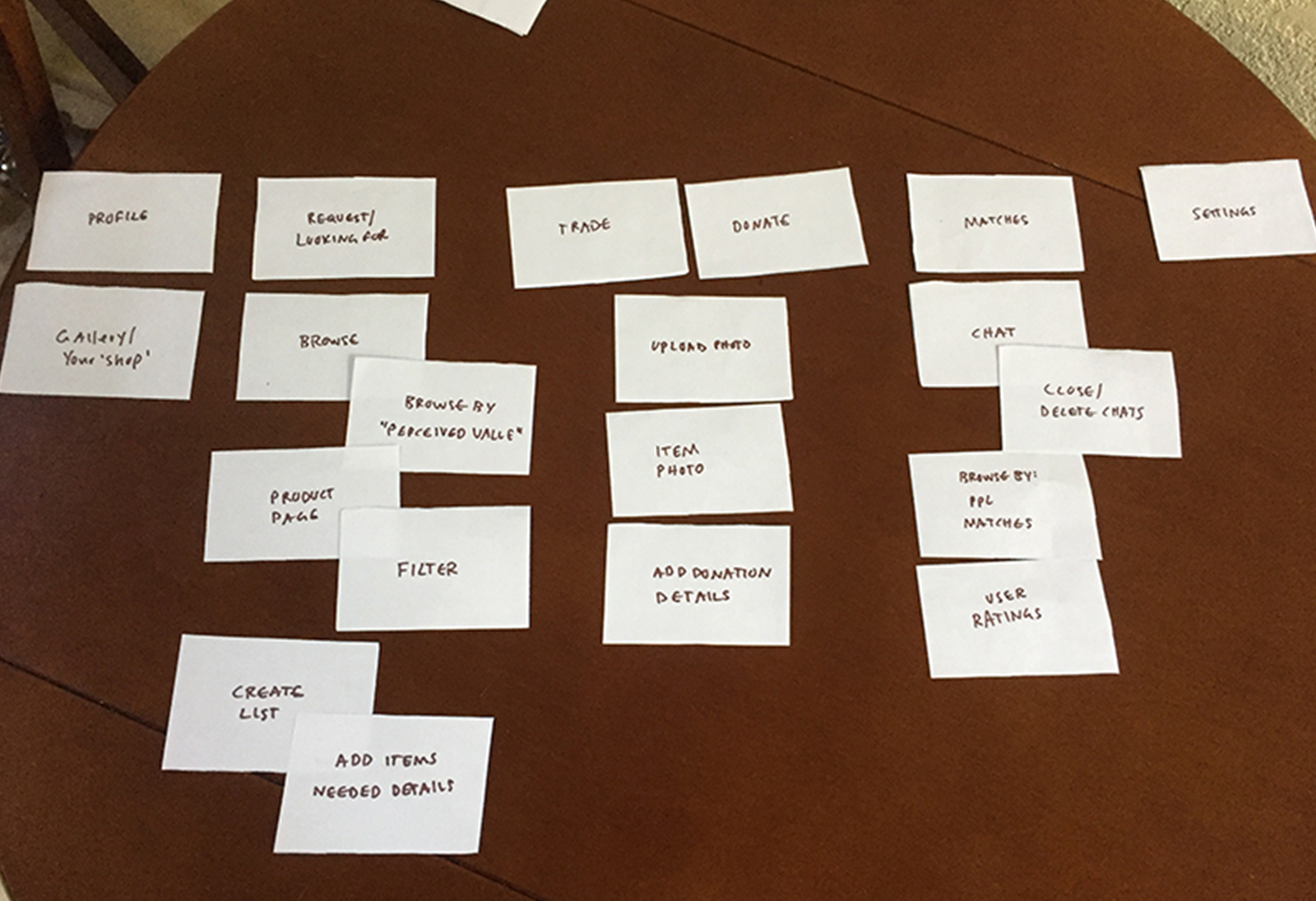 Card Sorting & Site Map
By going through a card sorting exercise with various users, a site map emerged based on how users would prioritize and group different types of features and information. The site map helped to establish key features and overall architecture of the app.
This card sorting exercise helped me to see how many features I had I presented to users. Although I did want to focus on aspects of buy, sell, trade, my research and analysis had pointed me in donation direction.
User Flow
The user flow is the culmination of research and a platform to start sketching. The green path is the 'happy path', which is the path that the user is most likely to take and the path to use for usability testing. While the main goal is for users to donate, they can also create a 'Needs List'. A Needs lIst is a space where they can create of things they know they need. By uploading items and creating a Needs List, users will be matched with those whose need what they're donating and vice versa.
Sketches, Wires & Usability Testing
Starting on paper first allowed me to freely sketch screens and easily reorganize them into a cohesive user flow.
Using Sketch to create wireframes enabled me to incorporate feedback from the paper prototype as well as set the foundation for KidGiv. With wireframes of the user flow, I conducted usability tests.
The Paper Prototype
Using the user flow as a baseline, I sketched out a paper for users to test. I created a quick click through using InVision.
Key Insights
Lacked an ending and sense of completion

How are people going to stay accountable?

Confusion on differentiation on uploading an item and creating a list of needs.

Add items to description list (age range, condition, boy/girl/unisex, etc)
Usability Test
Usability tests were moderated remote and in-person tests. The user task is to upload an item and donate it to someone who needs it.
Key Insights
The wording throughout the app felt too formal. "My son's toys aren't necessary to begin with, that doesn't mean I still can't donate them"

The user felt a little lost after uploading an item and moving onto their Matches.
Usability Testing: High Fidelity
Positive moments
Users we able to complete the task

Understood the idea of "Matching"

Enjoyed the tone of the onboarding

"I like the quick add button. After I explored the app, the shortcut really helps"
Pain Points
Users were unsure of how to complete the donation, which was a button in the upper right-hand corner of the chat screen.

There seems to be an overlap on 'Your Items' and 'Profile'.. is there a way to simplify?

The 'leave a review' button on the profile didn't make sense: ".... technically anyone could leave a review without having donated to someone"
The MVP came together through an iterative process of usability testing and visual design. KidGiv uses approachable, friendly tones, colors and iconography to encourage users to participate in the donation process.
The KidGiv Look and Feel
The KidGiv brand is loving, caring, encouraging, joyful, and friendly but never assertive. We enable our parents and families to easily donate or be donated to within their community.
These onboarding screens are a chance to introduce the user to the main features, brand, and tone of KidGiv
Screen Designs
The cool color scheme and rounded edges epitomize the friendly, caring nature of the KidGiv brand.